Introduction
Dehumidification is key to keeping your home's crawl space dry and safe. Homeowners should know the importance of a properly functioning crawl space. It helps us maintain optimal indoor air quality. When choosing a dehumidifier for your crawl space, you want one that is reliable and effective. To help you narrow your search, we have compiled a list of the ten best crawl space dehumidifiers of 2023 that we have tested and reviewed.
Each offers different features depending on your home's humidity needs. At the same time, they all do the job quickly and efficiently. We'll cover costs, energy efficiency, noise levels, and more to help you decide which dehumidifier is right. We'll also provide helpful tips on choosing the right dehumidifier and brand. So let's get started!
What Are The 10 Most Popular Crawl Space Dehumidifiers of 2023?
Here are the ten most reliable and popular crawl space dehumidifiers of 2023.
| | | | | |
| --- | --- | --- | --- | --- |
| Best Crawl Space Dehumidifiers | FLOOR AREA | REMOVALRATING(90°F,90% RH) | WARRANTY | BUY NOW |
| BaseAire Airwerx 35P | 1,000 Sq. Ft | 70 Pints per day | 5-Years | |
| AlorAir Sentinel HD55S | 1,300 Sq. Ft | 120Pints per day | 5-Years | |
| Abestorm Guardian SN55 | 1,300 Sq. Ft | 120 Pints per day | 5-Years | |
| BaseAire AirWerx90X Crawl Space Dehumidifier | 2,600 Sq. Ft | 198 Pints per day | 2-Years | |
| Frigidaire FFAD2233W1 | 2,400 Sq. Ft | 22 Pints per day | 2-Year | |
| AprilAire E070 | 2,200 Sq. Ft | 70 Pints per day | 5-Years | |
| Santa Fe Ultra98 | 2,300 Sq. Ft | 98 Pints per day | 6-Years | |
| BaseAire AirWerx 65X | 1,300 Sq. Ft | 120 Pints per day | 1-Years | |
| hOmeLabs 4500 Sq. Ft Energy Star Dehumidifier | 4500 Sq. Ft | 50 Pints per day | 1-Years | |
| AlorAir Storm LGR Extreme | 2300 Sq. Ft | 180 Pints per day | 3-Years | |
Best Trend Choice: BaseAire AirWerx 35P
As you know, small spaces cause more water issues. If you have a small home with a crawl space, consider the BaseAire Airwerx 35P. Despite its compact size (less than 16 inches long, less than 1 foot tall, and under 50 pounds), this little machine is a powerhouse. It can remove up to 70 pints of damaging moisture in spaces up to 1,000 square feet. Moreover, it can remove around 35 pints under normal conditions.
The Airwerx 35P uses GLGR technology, which controls the level of water vapor in the environment. It works by measuring absolute humidity. Its portable design includes a condensate pump that connects to the provided 19.6-foot drain hose. Hence making it versatile for use in various locations. The only downside is that its filter has a low MERV rating of 1, which is excellent for airflow but ineffective at capturing airborne particles.
The BaseAire AirWerx 35P is a compact, small, lightweight, and high-capacity dehumidifier.
This dehumidifier comes with a humidistat that can detect changes in humidity. Moreover, it can also adjust the levels accordingly. It also features durable coils with a stainless side plate. Please note that specifications may change without prior notice.
The AirWerx 35P works effectively in low-temperature and low-airflow environments, such as crawl spaces and basements. Plus, it comes with a remote control. Hence allowing you to adjust the settings from a distance, saving you time and effort.
Features
cETL/Energy Star

More Thorough and More Quick

Rotary Compressor type

Rare Earth Alloy Tube Evaporator

Easy Handling

Auto Defrosting

Environmental R32 Refrigerant

HVAC Remote System

Optional Remote control

Automatic humidistat for controlling humidity

Low Temperature

Memory Starting

Bypass air sensor
Best Overall: Alorair Sentinel HD55S
Alorair Sentinel HD55S is highly favoured for basements and crawl spaces. Its primary purpose is to efficiently remove excessive moisture from the air. Hence creating an environment where pests cannot thrive and threaten your family.
Additionally, by reducing humidity in your selected area, you can safeguard your belongings from damage caused by mold growth.
Features
Small design with outstanding performance

Adjustable footpad and a portable handle for easy transportation and installation.

Equipped with a MERV-1 filter to shield internal components from dust.

Utilizes auto defrost technology. Hence allowing it to function at low temperatures (as low as 36 degrees Fahrenheit)

cETL Certified for durability in challenging conditions

Maintains precise humidity levels, ranging from 36% to 90%

The auto restart function preserves your settings in case of a power outage.

Boasts an automatic diagnosis system, providing troubleshooting tips through error codes

Supports gravity drainage, eliminating the need for frequent tank checks

Resumes previous settings after a power outage with the Auto Restart feature

Graphical control panel

Optional remote control available for remote monitoring and control of different areas
Pros
The noise is very low.

Easy to set up.

Removes a lot of moisture.
Cons
No built-in moisture container.

The discharge tube is gravity-fed, so the humidifier needs to be higher than the drain or container.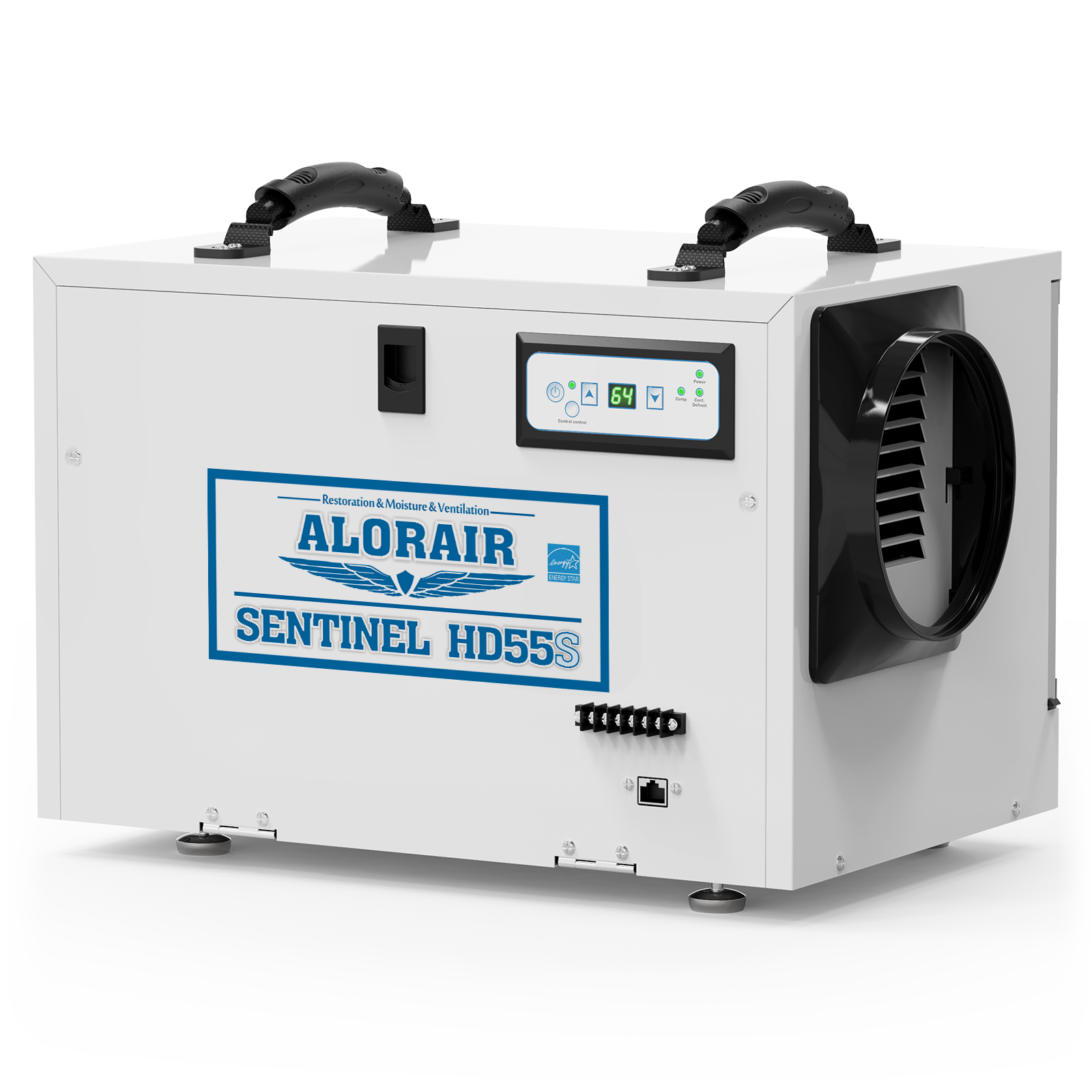 Best Budget: AbeStorm Guardian SN55
If you need a cost-effective way to control moisture in your crawl space, consider the Abestorm product. It's affordable compared to similar options and does a good job of removing moisture. It can handle about 1,300 square feet, typical for crawl spaces.
This product comes with all the standard features you'd expect. Let's explore the features.
Features
Prevents ice from forming on the coils, making it suitable for use in colder spaces.

After a power outage, it starts working again without requiring manual adjustments.

The Abestorm product works automatically to maintain the right humidity levels.

It's designed to last long, protecting against leaks and corrosion.

It also comes with a 6.56-foot hose to help drain away excess water.

It's quiet, so you won't hear it running while relaxing in your living room.

You can adjust its height to ensure it's level on the floor.

If you can afford it, consider getting a remote monitoring system. This will let you check its performance and change settings anywhere in your house.

It's easy to move around, thanks to its handles.

Plus, the manufacturer provides a 5-year warranty in case of any issues.
Pros
You won't have to worry about Freon leaking because the Abestorm has special protection against it.

It can remove 55 pints of moisture per day in normal conditions and 120 pints when it's wet.

It's smart and turns itself on and off, which saves energy.

You can adjust the feet to ensure their level on the floor.

It comes with a 6.56-foot hose to automatically get rid of collected water.
Cons
If you want a remote control, you must buy it separately, which costs extra.

Some users had issues with slow customer service.
Upgrade Options: BaseAire AirWerx 90X
The BaseAire AirWerx 90X is the second most powerful dehumidifier from the BaseAire brand. It can remove 90 pints of moisture daily, enough to cover an area of up to 2600 square feet. This dehumidifier is about 15.2 inches wide, 23.2 inches tall, and 17.7 inches deep, weighing around 71 pounds.
Although it's not super effective, it comes with a basic MERV-1 filter. It can capture small particles like dust, pollen, and pet dander. It's a good idea to clean this filter every 3-4 months to keep your air clean and maintain optimal moisture levels.
One of the best things about the AirWerx 90X is its quiet. Hence producing only around 58 decibels of noise. This means it won't disrupt your peace.
Additionally, this dehumidifier includes a water drainage pump, which helps speed up collecting water removal. This makes it more efficient, and you have several options for where you can direct the drained water.
Features
The AirWerx 90X has many great features but doesn't connect to a smartphone app.

It has a built-in humidistat and automatic mode, so it can work independently without you having to do anything.

It also has Auto-restart and Auto-Defrost features. It means you don't have to worry if it gets cold or the power goes out.

You can also monitor it remotely, but you'll have to purchase extra.
Pros
Quiet Device

Built-in humidistat

Water Drainage Pump

Auto-Mode

Auto-Defrost

Auto-Restart

Energy Star Dehumidifier
Cons
"Only" MERV-1 Filter

Separate Purchase for Remote Monitoring

No smart APP Connectivity
Best for Small Spaces: Frigidaire FFAD2233W1
The Frigidaire FFAD2233W1 dehumidifier is smaller and less expensive than our other options. Hence making it a better fit for smaller spaces like laundry rooms.
It comes with an Energy Star certification, comfortable handles that you can easily grab, and a cord storage feature. But, like most small dehumidifiers, the FFAD2233W1 doesn't have a pump. This means you'll need to empty the water bucket by hand or place the machine where it can drain into a sink or floor drain.
Features
22 Pint Capacity

Easy-to-Clean Washable Filter

Custom Humidity Control

Automatic Shut Off

Continuous Drain Option

Front Loading Bucket with Carrying Handle and Splash Guard

Low-Temperature Operation

Multi-Speed Fan

Portable Design

ENERGY STAR® Certified
Pros
When we tested it against other small dehumidifiers, it performed well in all our hands-on tests.

Out of all the dehumidifiers we tested, it's one of the quietest.

It has a big water tank, which is impressive for a small dehumidifier.
Cons
When we put it to the test, especially when we need a lot of power, this unit didn't do as well as some of the bigger ones.

Plus, it only comes with a 1-year warranty.
Best for Large Spaces:AprilAire E070
The AprilAire E070 Dehumidifier keeps your sealed crawl space or basement dry. It can remove up to 70 pints of water every day. The control panel is right on the front, making it easy to use anywhere and has adjustable feet to keep it level.
Setting it up is a breeze with its user-friendly display, and you won't have to deal with a messy water tray. Just clean or replace the filter once a year. It's made in the USA by AprilAire and built to be durable. They use strong aluminum coils that won't rust, take care to prevent leaks during manufacturing, and package it well to avoid damage during shipping. And it's backed by a 5-year warranty for your peace of mind.
One thing to note is that it works with power sources with 110-120 volts and a frequency of 60 Hz. It won't work with power sources that have a frequency of 50 Hz.
Features
Removes up to 70 pints of moisture per day

Prevents mould, wood rot, termites, and odours

Dehumidifies up to 2,200 square feet

5-year warranty

8ft. Power Cord

Made in the USA

No water tray to empty

MERV 8 filter (washable)

Adapters for threaded connection or plastic hose included.

Leveling screw-in feet included
Pros
The dehumidifier can move air at a rate of 200 cubic feet per minute, so humidity levels drop quickly.

It has an Energy Star Certification, meaning it doesn't use much energy.

The user manual provides clear installation instructions. While the manufacturer suggests hiring a professional, it's relatively easy to install yourself.

This dehumidifier is not noisy; it has a noise level of 53dB, quieter than many common household appliances like refrigerators.

It has an inbuilt humidistat, but you can also connect it to a compatible wall humidistat for remote monitoring.

It doesn't use condensate pumps by default. However, you can connect external ones to drain the collected water.
Cons
This dehumidifier works great, but it's best for dehumidifying one room at a time, especially if the humidity levels are high.

Unlike some modern devices, this one doesn't have smart features. So, if you want to check or control it when you're not at home, you won't be able to do that.
Best Air Quality: Santa Fe Ultra98 (Santa-Fe dehumidifier filters use MERV-13 filters.)
The Santa Fe Ultra98 gives you really good air quality inside your home. It does this by handling moisture, bringing in fresh air, and cleaning it with a special filter. It's super quiet because it's designed with good insulation, and you can even choose to have it stand up vertically if you want.
You can also connect it to bring in fresh air from outside. This helps eliminate bad stuff in the air and keeps the oxygen levels high. You can control how much fresh air comes with different parts and settings.
Features
The Santa Fe Ultra98 makes the air inside your home clean and healthy. It controls moisture, brings in fresh outdoor air, and uses a great air filter (called MERV-13).

It comes in a small, well-insulated box that can sit horizontally or vertically. This means it runs quietly and doesn't take up much space.

You can also connect it to the outside to bring in fresh air. This helps eliminate bad stuff in the air and keeps the oxygen level high. You can control how much fresh air comes in using different parts and settings.
Pros
The dehumidifier has a super effective filter that catches bad stuff in the air.

You can make it bring in fresh air from outside into your home.

It works great for medium-sized homes, up to 2,300 square feet.
Cons
Getting a professional to install it is a good idea because it needs some tricky electrical work.

You have to buy a separate controller because it doesn't have one built-in.
Most Adaptable:BaseAire AirWerx 65X
The AirWerx 65X dehumidifier is an excellent choice for people who want to use it in their homes. It's efficient, uses less energy, and is dependable. Plus, it has a powerful condensate pump that makes it easier to set up and drain water.
This dehumidifier has a built-in pump that automatically removes the water it collects. You can use a long drain hose (19.6 ft) to put the water where you want it, even if it's higher. Or, if it works better for your space, you can let gravity do the job.
It's straightforward to operate. There's a control panel with buttons for things like humidity and temperature. You can control it manually or adjust itself automatically based on the conditions in your space. You can also monitor and control it remotely with a separate remote control.
This feature helps the dehumidifier work well even in colder temperatures (as low as 36 degrees Fahrenheit). If it senses frost on the coils, it runs a defrost cycle to prevent issues. This means it can keep running without frequent stops for defrosting. Hence, it saves energy and extends its lifespan.
This dehumidifier resists corrosion and prevents leaks. It can also keep the coils in good shape and maintain their efficiency.
It's made with modern homes in mind. It's perfect for crawlspaces, basements, and even commercial spaces. It has features like an auto defrost system, an option for remote control, and a MERV-8 filter. It can work in low temperatures, and it's been certified for safety (C-ETL listed).
Features
Super Small and Super Effective

Comes with a strong pump that automatically removes water where you want it to go

Easy to move and set up with adjustable feet and a handle

Simple control panel that's easy to use

Has a special filter to protect the inside parts from dust and dirt

Special coil that doesn't leak and lasts a long time

Can work in really cold places (as low as 36 degrees Fahrenheit)

Can tell how humid it is and adjust accordingly

Remembers your settings even if the power goes out

It can diagnose problems and give you hints on how to fix them

You can add a hot air duct for targeted dehumidification.

You can also control it from far away with a remote control.
Pros
Reliable performance

AHAM humidity control of 55 pints

Daily saturation of 120 pints

Memory starting function

Quiet operation

Merv 8 filter

Easy to channel water out

Automatic shut down

App for WiFi connection

Hanging kit for installation
Cons
Best for Basement: hOmeLabs 4500 Sq. Ft Energy Star Dehumidifier
The hOmelabs 50-pint dehumidifier is like a comfort wizard for your home, especially when you need it the most. It's a strong machine that sucks out the extra moisture in the air, which is great for big rooms and basements up to 4,500 square feet. Not only does it make you feel better by getting rid of humidity, but it can also make your home cooler.
It's super easy to use too. You can see and change the humidity levels without any fuss. Plus, it has some cool features like Auto Shut-Off, Defrost, and Auto-Restart, which make your life easier.
Features
This cool-looking dehumidifier helps you maintain the right moisture in your home.

This dehumidifier can also save you money on your energy bills. When there's less humidity, your air conditioner works better and doesn't have to use as much energy to cool your home.

This dehumidifier has a big tank with 1.6 gallons of water. It can take up to 50 pints (about 6 gallons) of moisture from the air in one day. So, it's great for big rooms, up to 4,500 square feet.

It looks sleek and modern and will fit in your home or office.

It's also easy to move around because it has wheels and a handle.

It works quietly, so relaxing or studying won't disturb you.

Set it to the humidity level you want, and it will work around the clock until the tank is full. Then, it'll automatically turn off.
Pros
It's one of the cheapest 50-pint dehumidifiers we've tried.

It comes with a 2-year warranty, which is better than the 1-year warranties most other dehumidifiers offer.

Despite its size, it's one of the lightest 50-pint units we've tested.
Cons
The compressor can be quite loud.

It comes with some lower-quality parts.
Best Smart App Options: AlorAir Storm LGR Extreme
The AlorAir Storm Extreme LGR Commercial Dehumidifier is a super effective machine for getting rid of excess moisture. It works especially in tough situations. It's a must-have for jobs like fixing water damage.
This dehumidifier can pull out 180 pints of moisture daily and handle big spaces up to 2,300 square feet. It's even designed to work in places that have been flooded, which is perfect for fixing water damage.
If you're running a business and want extra perks, consider signing up for a free Sylvane Pro account. It can give you some nice benefits as a business customer.
Features
Up to 180 pints a day moisture removal when it's wet and 85 pints a day in normal conditions.

We can use it at places with different humidity levels, from somewhat humid to very humid (between 35% and 90% humidity).

It also works in temperatures from 33 to 104 degrees Fahrenheit, which is quite a range.

It comes with warranties: 5 years for the main parts, three years for the cooling system, and one year for the others.

It's simple to operate.

It has a tough pump that pushes water out of your space.

You can set the humidity level you want, and the dehumidifier will work independently to reach that level.

You can quickly get to all the important parts if you need to fix it.

It has handles on top, so it's easy to carry and stack.

You can choose from four colours: yellow, blue, red, and green.

Connect it to ducts to cover multiple rooms.

If it gets too cold and frosty, it knows to defrost itself.

Its filter catches tiny things in the air that might make you sneeze.

If you need more than one, you can stack them to save space.
Pros
Washable MERV 8 filter

Recommended for up to 3,6Al00 sf

Epoxy coated coils

Can be hung in attic/crawlspace

Hot gas valve defrosting system

Built-in humidistat, drain pump and hose

Operates at < 58 DBA

Long 5-year warranty

Can be placed in water while in use
Cons
What to Consider When Buying a Confined Space Dehumidifier?
When buying a dehumidifier for a small or tight space, there are important things to consider. Here's what you should remember:
How Much Space It Covers?
The dehumidifier should be able to take care of all the air in the room. Make sure it's big enough for the space you're using it in.
How Much Moisture It Takes Out?
Dehumidifiers are rated by how many pints of water they can remove from the air each day. This can change depending on how humid and hot it is. So, pay attention to these numbers.
Cost and Saving Electricity
Think about how much it costs to run the dehumidifier. Some are better at removing moisture without using a lot of electricity.
Extra Features
Some dehumidifiers come with cool extras like starting again by themselves after a power outage or stopping from freezing in very cold weather. These extras can be handy.
Knowing the Humidity
Some dehumidifiers can figure out how humid your room is and adjust themselves to keep it just right.
Emptying the Water
Check how the dehumidifier gets rid of the water it collects. Some have a tank you need to empty, while others can keep draining water away without you doing anything.
Not Freezing in Cold Weather
If you live in a cold place, ensure your dehumidifier won't freeze. Some have a special feature to stop this from happening.
Using Your Phone
Some new dehumidifiers can talk to your phone, so you can control them and see what they're doing even when you're not home.
Setting It Up
Think about how easy or hard it is to put the dehumidifier in your space. Some are super easy, while others might need a professional to install.
Taking Care of It
Lastly, see if the dehumidifier needs much work to keep it clean and running well. Filters that you can clean or change easily can save you a headache.
What Are the Key Factors to Look for When Selecting a Brand?
When you're picking a brand, here are some important things to think about:
Product or Service Quality
Check if the dehumidifiers they make or their services are good and work well. You should ensure they have a good record for maintaining the high quality.
Reputation and Reviews
See what other people say about the brand. If many folks like it and say good things.
Price and Value
Think about how much their dehumidifiers cost compared to how good it is. Sometimes, it's worth paying a bit more for something better.
After-Sales Service
Consider how they treat you after you buy their stuff. Do they help you if there's a problem? Good customer service can make a big difference.
FAQs
Does an Encapsulated Crawl Space Need a Dehumidifier?
An encapsulated crawl space may need a dehumidifier to keep moisture levels low. Hence preventing mould and damage to your home's foundation.
Can I Use a Regular Dehumidifier in a Crawl Space?
Using a regular dehumidifier in a crawl space is okay. It helps remove moisture, preventing mould and damage but ensures it's built for crawl spaces to work best.
How to Install Crawl Space Dehumidifier?
1. Find a suitable spot: Choose a dry location in your crawl space.
2. Plug it in: Connect the dehumidifier to an electrical outlet.
3. Set humidity level: Adjust the settings to your desired moisture level.
4. Drainage: Attach a hose for continuous drainage or empty the tank when full.
5. Maintenance: Clean the filter regularly to keep it working efficiently.
What Size is the Dehumidifier for the Crawl Space?
You should consider the area's square footage, humidity, and ventilation.
Measure the crawl space dimensions accurately.
Assess its moisture level.
Calculate the necessary capacity.
Consult with a professional for expert advice to ensure optimal dehumidification.
How Do Crawl Space Dehumidifiers Work?
Crawl space dehumidifiers remove moisture from the air in the crawl space. These devices use a fan to draw in humid air, which passes over a set of coils cooled by a refrigerant. As the air cools, the moisture condenses into water droplets and is collected in a reservoir or drained away. The dry air is recirculated back into the crawl space, reducing humidity levels. This helps prevent mould, mildew, and structural damage in the crawl space area.
Where to Place the Dehumidifier in the Crawl Space?
Place the dehumidifier in the center of the crawl space for optimal moisture control and even distribution throughout the area.
How to Set up a Dehumidifier in a Crawl Space?
1. Ensure proper ventilation.
2. Place the dehumidifier on a stable surface.
3. Set the desired humidity level.
4. Ensure drainage for collected moisture.
How Long Does a Crawl Space Dehumidifier Last?
A crawl space dehumidifier typically lasts 5-10 years with proper maintenance, although some high-quality units can exceed this lifespan.
Final Thoughts
Finding the right dehumidifier for your crawl space is important to keep your home comfortable and healthy. Our list of the top 10 crawl space dehumidifiers in 2023, which we tested and reviewed, gives you all the information you need to make a smart choice.
These dehumidifiers vary in their ability to remove moisture, energy efficiency, and special features. Whether you have a damp basement, a crawl space, or another small area, our recommendations cover a wide range of options to tackle humidity problems effectively.
Getting one of these dehumidifiers will help prevent issues like mold and bad smells and make your home a better place to live. So, pick the one that suits you best and enjoy a more comfortable and healthier home!
Contact Us Today to purchase a high-quality dehumidifier for your crawl space.